Omron Sensor
Our exclusive range of products incorporate Ultrasonic Sensor, Slot Sensor, Label Sensor, Electromagnetic Relay, Connector Cable, Braking Resistor, Vibrating Fork level switch, Cable Float Switch, PID Temperature controller, Multi thermometer, Digital Pressure Gauges, Anemometer, Water flow meters (Domestic type) etc of diverse specifications and features.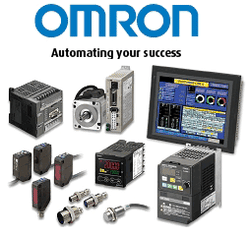 We are the most eminent omron photosensor dealer in the Indian market. OMRON Industrial Automation is a well-known company that has a huge expertise in the sensing and control technology and produces a wide range of products that offer excellent output in an efficient manner. The products are based on the latest technology and offer durable functionality in a consistent manner.
We only deal with the products of the highly regarded companies and make sure that the products we supply are quality tested and efficient. We are never out of stock of any of the products of this company. We always lead in providing our customers with the new launches of the company. Apart from that we are also well-known for supplying our products to our customers on time.